Welcome to UCC Acosta Middle School
UCC Acosta Middle School is a nonprofit technology and skilled-trades focused charter school with an environment that fosters high expectations, hard work, and strong parental involvement that will lead all students to rigorous high schools and colleges and equip them with skills to be competitive in dynamic future job markets.
2024-25 Enrollment Information
Shine bright at UCC Schools!
Step 2
Important Information for the 2024-2025 School Year

Attend our Fall Open House on March 2 or May 9th!
This open house is a great opportunity for parents and guardians of incoming 6th graders!


Next Open House: Saturday, March 2
Time: 9:00 a.m. - 12:00 p.m.
Location: ALL UCC School Campuses
*Private tours are welcome and can be given in English or Spanish! To schedule a personal tour, call our Enrollment office at (414) 389-4765
Questions?
Contact Dalia Huerta, Director of Family Engagement and Enrollment
(414) 389-4765
SEND AN EMAIL
Register to Attend UCC Acosta Middle School Today!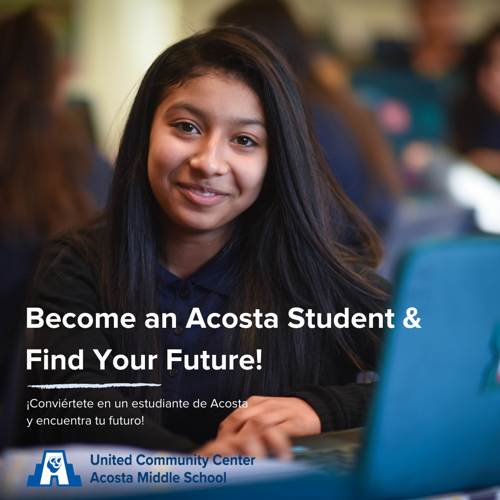 Step 3
Complete & Submit Your Application
Review and assemble the required documents
Most recent report card or progress report for the 2023-2024 academic school year
The final report card for the 2022-2023 school year, documenting complete grades for all four quarters of the grade level preceding the desired grade level of enrollment at Acosta.
If the student has a 504 Plan, IEP and/or medical care plan, the most current document should be included.
Complete and submit the application form. 
Complete Your Application
Middle School Pre-Enrollment Application

Please email your paperwork if possible or call our Enrollment Specialist, Dalia Huerta. Thank you!
By Mail:
United Community Center
Attn: Enrollment Specialist
1028 S. 9th Street
Milwaukee, WI 53204
Step 4
Attend
Attend an informational meeting.
Once all paperwork is received, you will be called to set up an appointment. All 6th and 7th grade applications received before February 2023 will be called to set up an appointment immediately.
*Please inquire with Ms. Huerta if you have children ages 6 weeks to 4 years as well, as we have active openings!
Dalia Huerta
Director of Family Engagement and Enrollment
414-389-4765
Email Us!